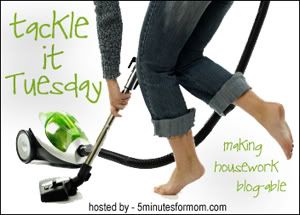 I'm joining in with Tackle It Tuesday at
5 Minutes For Mom
. I am the world's worst procrastinator, but, I finally got the motivation up to tackle something I have been dreading - my youngest son's room. He is always getting toys from friends and relatives, and while I appreciate them, they had gotten out of hand. Here are the before pictures:
My older son helped me sort the toys. We had 3 piles. One pile was toys that were broken, another pile was toys that he didn't care for or had outgrown, and the last pile were toys to keep. My little
one tried to help, but he kept getting distracted by all the toys! Here's the after pictures:
I don't know why I had put this off for so long, it wasn't nearly as bad as I had imagined! Now that it's all cleaned up, it's ready to fill with Christmas toys, lol!