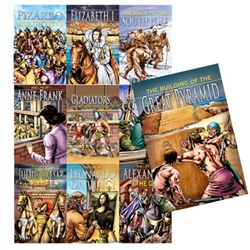 I recently received
Stories From History
a set of
11 graphic novels
to review from
Timberdoodle
. These books are a great way to introduce kids to different historical characters and events. Each book is 48 pages and is illustrated like a comic book. They aren't thin like comic books, though. The books are fairly sturdy and well-bound and since the stories are so short, they are guaranteed to keep your child's attention.
Included in this set are the following books:
Pizarro and the Incas
The Life of Anne Frank
The Building of the Great Pyramid
The Life of Julius Caesar
The Life of Christopher Columbus
The Race to the South Pole
Gladiators and the Story of the Colosseum
The Life of Alexander the Great
Elizabeth I and the Spanish Armada
The Life of Leonardo Da Vinci
The Discovery of T. Rex
* Page 13 of
Gladiators and the Story of the Colosseum
and page 26 of
The Life of Leonardo Da Vinci
may need a touch of white-out depending on your family's modesty standards.
Each book starts out by introducing you to the characters in the book. There are maps and background info needed to help you understand the time and place each event happens.
My son, who gets bored very easy, loved reading these books. He even kept asking me questions to see if I knew the answers. If I didn't he would reply with the answer and show it to me in the
Did You Know?
section of the book. He liked that each one has a timeline, that way he could refer to that if he forgot when something happened.
I like that he wanted to read this without me having to make him read them. I also like the glossary at the end, where he could look up anything he didn't understand. He had more questions, so were able to discuss things and learn more about them.
Stories From History
is available from Timberdoodle for $16.95, so I think they are very reasonably priced. These books are recommended for children 8-14. I think you could also use them for younger children, if you are reading it to them.
Stories From History was provided to me at no cost from
Timberdoodle
and
Mama Bzz
in exchange for review.