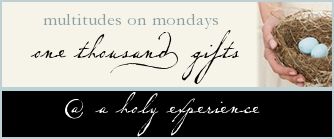 Are you counting your blessings? I am! Click on the banner above and join us! No pictures this week. I forgot to take my camera with me.
My gifts for the past week are:
264. Mitchell being baptized yesterday
265. My husband, Ronnie, being baptized yesterday also
266. Our family becoming members of our church
267. Hugs and welcoming from other members
268. The song- This is my Father's World
269. Cheese crackers
270. A creek that little boys love to play in
271. Finding crawdads in the creek
272. A bridge with benches
273. Barb's youngest son's birthday
274. His surprise as he opened each gift
275. My hubby being one of the few people still working at his job
276. How hard he works for our family even on the weekends.
277. Marinated steak cooked by my husband
278. Chilly nights
279. Good sweet and sour chicken I cooked at home
280. My chickens chasing crickets that hop around
281. D.C. dreamin'
282. Planning a trip
283. Watching a cousin's goats play with each other
284. Living in a state with cheaper gas than some