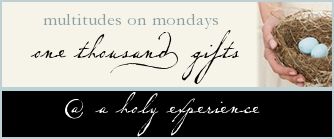 Have you been counting your blessings this week? If not, it's time to start! Here are some of mine from the past week:
391. A pink flower Hunter picked for me
392. Chocolate I received for Mother's Day
393. Bath and Body Work's lotion they gave the Moms at church
394. The men cooking breakfast for the ladies at our church
395. Bacon....mmm!
396. Watching Cars 2 with my little one
397. Having a great pediatric dentist
398. Mitchell having no cavities
399. Finding good deals at Burkes
400. My hubby cooking dinner for me
401. Continued relationships with my 2:1 Conference friends
402. Mitchell's excitement at finishing Biology for the year
403. Barb getting a perfect job
404. Having the sweetest ladies at church
405. Getting stuff out of my bedroom, so I have more room
406. An old Sellers flour cabinet that was my grandmothers that I love
407. Cheese grits